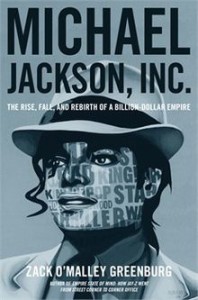 ISBN: 1476706379
Read: December 2016
Rating: 7/10
Amazon page for more details and reviews.
A fascinating look at the business of Michael Jackson, his best and worst creative and professional decisions, and how he was able to earn as much after death as he did throughout his life.
My Notes
Jackson fundamentally changed the formula for monetizing fame forever.
In 1986, he gave them copies of Humbug, a biography of circus impresario P. T. Barnum; he wanted his life to be the greatest show on earth. At his insistence, lieutenants planted fantastical stories about him in mainstream publications and the tabloids.
"self-conscious, and anxious for a claim on national gratitude." At times, the same could be said about the King of Pop.
Jackson became deeply distrustful of many of his closest advisors, sometimes with good reason, sometimes not. As a consequence, he disbanded his original business team and replaced it with a carousel of sycophants.
After Jackson's annual income stream reached twin peaks of $125 million in 1988 and $118 million in 1995, it declined to $18 million by 1998 and hovered in that vicinity for the rest of his life. But his expenditures remained high as ever. "He did have a business head," says Walter Yetnikoff, Jackson's longtime boss at CBS Records. "His problem was that he overspent."
For Invincible, released in 2001, he ran up recording costs of $30 million to $40 million in an era where $1 million was considered a fairly large budget. He never released another studio album. By 2009, though he was still rich on paper thanks to his Sony/ATV stake and personal publishing holdings, he was running out of cash and nearing the point where he'd have to sell those assets
they actually learn to become a person that cannot take no. And they make sure there's no one around them that says no. And many times the entourage can [lead] you to your demise."
The show would make him the top touring act in North America—and help wipe away his personal debts—just three years after he passed away. All in all, Jackson's estate has earned over $700 million in the five years since his death, more than any musician dead or alive during that period.
The realization that his most important moves were not simply executed by savvy handlers, but in many cases driven by Jackson's own intelligence and intuition, gave me the idea for Michael Jackson, Inc.
He was perhaps the strongest student of the bunch, in part because of an intellectual curiosity that manifested itself both backstage and in the classroom. "His thirst for knowledge was far greater than any of ours," Jermaine wrote. "He was that curious kid who asked, 'Why? Why? Why?' and he listened to and logged every detail."
Joe Jackson believes that the packaging of his sons as Diana Ross's discovery was not only a bid to prop them up, but to deflect attention from the songstress's impending departure from the Supremes. "Berry had to come up with some type of gimmick to fill that in to make it look good," he says.
Once your audience was hooked on a song, according to Gordy, you had to spend the next three minutes telling a story with a beginning, middle, and end. The chorus should summarize the arc of the story, and the dynamics should swell steadily until the grand finale, closing with one final mention of the song's name so that people would remember it.
The chorus should summarize the arc of the story, and the dynamics should swell steadily until the grand finale, closing with one final mention of the song's name so that people would remember it.
Jackson's international audience eventually became an essential element of his success. He now sells two albums abroad for every one sold stateside—a trend that began in the Thriller years, but whose roots were laid in.
Michael Jackson was one of the rare artists who eventually did both. He started by asking the right questions. "He was interested in what publishing was—what this was, what that was," says Gordy. "You know, he was just an inquisitive kind of person."
When you don't surround yourself with the best people, that's powerful.
Joe pushed for a high royalty rate and got 14 percent of retail (about 28 percent of wholesale)—much more than they were getting at Motown.
Berry Gordy, however, saw the move as less of a push for creative control and more as a power play by a patriarch eager to refresh his grip on his children's careers: "He was constantly trying to come in and dictate things. . . . I would imagine that Joe having absolutely no control at Motown, and having all the control at CBS [was the reason]." 4 Adds Smokey Robinson: "Joe never got used to Berry calling the shots on his boys. He figured because his sons came from his seed, he'd be their boss forever."
Perhaps trying to make sense of the disappointing results, Michael quite literally took business matters into his own hands. Yetnikoff remembers visiting the family compound in Encino and seeing the young singer poring over contracts for performances and records, making notes in the margins of the pages.
With greater creative control over their music, Destiny soared to number 3 on the US charts shortly after its 1978 release, eventually selling 4 million copies worldwide. The album featured "Shake Your Body (Down to the Ground)," a funky disco hit written by Michael and Randy; the song served as further validation of the Jacksons' musical talents beyond performing.
So Jackson, just eighteen years old, arranged a meeting with the president of CBS Records to explain his plans. Yetnikoff liked what the young singer had to say, and encouraged him to stretch his creative muscles. If it didn't work out, he figured, CBS could always try to sell Jackson's contract back to Motown.
One of the many ideas about the music business that Michael Jackson learned from Berry Gordy—for better or worse—was the notion that budgets shouldn't constrain art.
His work ethic was particularly impressive for a teenager. Living in a high-rise apartment in Manhattan's ritzy Sutton Place with sister La Toya, he'd wake up at 4:00 a.m. most days to get to the set in Queens by 5:30 a.m. so that makeup artists could spend hours applying his elaborate costume.
"He would sit in the meetings with his sunglasses on," recalls Karen Langford, who started working with Jackson in the early 1980s. "And you really couldn't tell how much attention he was paying . . . but afterwards, he would say something and you would know he actually really was paying attention because he just likes to sit there and take it all in. And that's how he learns . . . the whole world was like his classroom and he just wanted to learn it all."
The next move was to rework Jackson's deal with CBS's Epic Records. Renegotiation is a common reward for artists who release albums as successful as Off the Wall, but Branca was able to score a bonanza. He convinced Epic to draw up a new solo contract for the singer. Jackson had received 32 percent of wholesale on his previous record; Branca got that number bumped up to 37 percent escalating to 39 percent.
Branca added another handy stipulation to the deal: Jackson's five-album deal, which began with Off the Wall, would be governed by California law, the only such agreement in the New York–based CBS Records family. That may sound like a triviality, which is likely why the label didn't put up a fight. But it was actually quite a shrewd move—unlike New York, the Golden State's regulations stipulated that an employee had the right to terminate any contract after seven years—and it gave Jackson's team a great deal of leverage for future renegotiations.
He wasn't interested in making black music, anyway. Since his early days with the Jackson 5, he'd spoken of making albums that transcended skin color; his stated goal was "uniting people of all races through music." 10 As disappointing as it was, Jackson's Grammy letdown may have ultimately been a useful lesson. "That experience lit a fire in my soul," Jackson wrote.
A voracious reader, Jackson often spoke of studying the best to become better—in all sorts of fields. "He didn't study the greats just in music," Forger remembers. "He studied people like Michelangelo, he studied the Beatles, he studied Thomas Edison, Henry Ford. . . . His quest was to figure out what it was, what these qualities are, how these people became successful."
"One of the things that created the richness and the character and the sound of Thriller was this ability to use this vast number of multitrack tapes," says Forger. "There was an entire organizational strategy of how to make this work. . . . We sat in the studio every single day and utilized this technique. And with Quincy's vast knowledge of how to draw on sound characters and textures, Rod's arrangement ability, Bruce's knowledge of the sonic quality of how to create these signature sounds . . . everything was driven by the creative sense of how to create and make the best recording possible."
"I had no idea what I was going to do at first," he wrote in an unpublished note. "I just had one major thought in mind and heart: It had to be the best, incredible, the unexpected. I had determination of fire to be incredible on this show."
Jackson was determined to monetize his success to the greatest extent possible. He often spoke of the many great artists of the 1950s and '60s—particularly black musicians—who had signed away vast swaths of their future musical interests.
"He studied people who had attained success in their field . . . but he also studied people who, although they were successful in the popular sense, they may not have been successful in a business sense," recalls Forger. "And he studied those people and the mistakes that they made so that he would not make those same mistakes."
"I would talk to him about the marketing plan for each venue," says Sullivan. "He had toured since he was five years old, so he had a sense of the nuances of the markets we were visiting . . . he knew what radio stations got the most play, who were the dominant entertainment figures in each market. He was a very tuned-in person."
"He had quite an awesome command of rights and rights values," says Sullivan. "This really was generated by him." And so, in 1984, Michael Jackson became the first music star to have his own clothing line.
What the singer really wanted was Gordy's Jobete catalogue, home to most of Motown's greatest hits, including those of the Jackson 5. Gordy says Jackson offered him a "competitive" price for it at one point, but the Motown chief wasn't ready to sell—and didn't, until EMI paid him $132 million for half of the catalogue in 1997. 8 But watching Gordy manage his publishing interests had set something ablaze inside Jackson. "He got the bug," says Gordy. "And that gave him the [urge] to want to do something even greater."
For Holmes à Court, there were few pleasures greater than a grueling business negotiation. He took particular glee in toying with overzealous Americans.
Though the Beatles' songs made up roughly two-thirds of ATV's value, the remaining third consisted of assets McCartney didn't want: copyrights to thousands of other compositions, a sound effects library, even some real estate.
"John was the financial concierge in executing Michael's instincts," says billionaire Tom Barrack, who'd go on to work with Jackson later in the singer's life. "So Michael said, 'Wow, I think there's incredible value [in the Beatles' songs] over time. Quite honestly, Michael didn't know if they were worth $12 million or $18 million or $25 million."
Then Branca hired a team of international tax experts to help sort out the transaction—and save Jackson a raft of money. At the accountants' suggestion, they moved ATV's corporations to the Bahamas, eventually liquidating them and distributing the assets to Jackson. His accountants also realized that tax laws allowed them to write off about $5 million of the catalogue's purchase price annually as a business expense over eight years. As a result of this and the Bruton Music sale, Jackson's net cost for the purchase would end up being only $20 million or so.
The ATV catalogue had been generating roughly $6 million per year from physical sales and radio spins of its four thousand copyrights, propelled by low six-figure payouts for individual hits like "Yesterday." But there was an opportunity to make much more.
That's not necessarily hyperbole. A $47.5 million investment in Apple stock shortly after its 1980 initial public offering would be worth about $6.5 billion today, considerably more than Sony/ATV. But it's all a matter of timing. Had Jackson spent $47.5 million on Apple shares at their 1987 peak, their value would now stand at $1.6 billion; factor in his catalogue's fat dividends, and the two purchases would be roughly equivalent.
His sense of the value of copyrights was impeccable.
Before many of his concerts, Jackson insisted on personally accepting his share of the box office revenues in his dressing room before taking the stage. Lemorande suggested the screenwriter equivalent: contact the employer, personally deliver the script to London, and accept the payment there. But the screenwriter allowed himself to be talked into accepting his fee by wire—and never received it.
That same year, Michael Jackson gave copies of the P. T. Barnum biography Humbug to Branca and Dileo, along with some advice: "Study the greats and become greater."
Journal Entry: "Thoughts on Work and Secrecy": When working on any project, work with the best people in the business, the best people in the world—expertise in every field of endeavors, the best chemistry, the best unity—and work in secrecy. And when it's least expected, hit everybody between the eyes with the phenomenal, the most powerful, unexpected project. Then it becomes historical because you have a perfect gem. But strive for excellence and perfection in everything. Study the greats and become greater—in secrecy.
The author of Humbug, the book Jackson so enthusiastically gave to Branca and Dileo that same year, explains that Barnum believed controversy wasn't a bad thing, and that "the only requirement was to keep the issue alive and in print. Any statement was better than silence."
There's a fine line between feeding the media stories about a star's eccentricities, real or constructed, and becoming a tabloid punch line. By trying to buy human remains—or at least wanting to be seen as trying to buy human remains—it seemed Jackson had slipped past a crucial midpoint.
During rehearsals for the This Is It concerts two decades later, Jackson joked that if he didn't write down these ideas and turn them into music, God would give them to Prince. Jackson had initially envisioned the title track of Bad as a duel with his rival, but when they met to discuss a potential collaboration before the recording process began, Prince startled Jackson by bringing him a voodoo amulet. "I never want to talk to that guy again," said Jackson afterward.
After the cumbersome democracy of decision making during the Victory Tour, Jackson took advantage of the control he had over his first solo excursion. To bring visual ideas to life, he personally collaborated with his costume designers—including Michael Bush, who remembers Jackson leafing through magazines, tearing out images that inspired him, and Scotch-taping them floor-to-ceiling. The two would then sit down with one piece of paper, one eraser, and two pencils: "He would draw, I would erase," says Bush. "I would draw, he would erase."
Even after he arrived in Japan, Jackson was deeply involved with the underpinnings of every show. He had a practical thirst to understand what everyone around him did and know how everything worked, from the costumes down to the staging. "I got my lighting designer for the tour," he'd say. "I need to understand what that board does. Because if I tell the guy I want this light up here to do this, and he says, 'I can't,' I need to understand why he can't, but I also need to understand why maybe we can."
All the while, Jackson kept up with music industry goings-on between concerts, scouring the charts for up-and-coming songwriters to sign to ATV. One such musician was Bryan Loren, who at the time was producing for the likes of Sting and Barry White. Jackson exhorted ATV president Dale Kawashima to get the new prospect on board.
"We were having a blast two floors below with Bubbles, and he was up there practicing his dancing," says Bon Jovi. "While we were being goofballs and enjoying our success, he was practicing even after the shows because he was just so ultra-über-focused on being Michael Jackson. The blessing was the curse."
Sheryl Crow felt he had internalized the pressure of becoming the focal point of the Jackson 5, and thereby his family's meal ticket, at such an early age. Initially, she was amazed at how the Bad Tour was in many ways like a Broadway show, with everything consistent from one night to the next, down to the banter between songs.
Neverland's initial asking price: $60 million. Branca jumped in and helped Jackson negotiate, eventually closing at $17.5 million. The final sale included a fully stocked wine cellar, and the sprawling main house came fully furnished. A grateful Jackson gave his lawyer a fittingly grand token of thanks: another Rolls-Royce.
After Thriller established Jackson's supremacy on the charts, Elizabeth Taylor suggested a new title for him, one that she'd already taken to using in public: the King of Pop, Rock and Soul. He was delighted. The only question was whether people would start using it.
He decided to make the appearance on one condition: that from then onward, the network's executives would make sure that their taste-making video DJs would refer to him only as the King of Pop. "They agreed, and then the name stuck," Branca recalls. "Everybody called him the King of Pop. . . .
Between that move and additional purchases Branca made around the same time, Jackson added hits including "When a Man Loves a Woman" by Percy Sledge, "Great Balls of Fire" by Jerry Lee Lewis, "Love Train" by the O'Jays, and "What'd I Say" by Ray Charles to his collection. He usually had a very specific motivation for wanting to buy certain copyrights, and these all fit the bill: "He wanted to cover those songs," recalls Bider. "That's smart business."
Thanks to close associates who were willing to challenge him, Jackson had narrowly avoided dashing a worthwhile project. He couldn't have been happier with the result. "He thought the book was great," says Areheart. "Michael loved it."
For much of the 1980s, Yetnikoff was the unreformed Tony Stark (an arrogant, skirt-chasing boozehound who happened to be incredibly intelligent) to Geffen's Obadiah Stane (a brilliant operator who played business like chess and always seemed to know where to find an opponent's weaknesses). Yetnikoff also enjoyed tweaking his foe.
"The value comes from when you own [your work]," Jackson explained, detailing a philosophy that he applied increasingly to physical goods as well as intellectual property. "It's yours. It's yours forever. And you can give it to your children, you can give it to your family. That's how you build your wealth."
Neverland could fetch $75 million to $85 million on the open market—perhaps more if a foreign billionaire decided to acquire it as a trophy. Says Altman: "There are only so many mega-properties."
"Michael thought of being the biggest, the best . . . to repeat the great success of Thriller and to be able to have more people attend your concerts, to be able to have the most successful short films at the time, to be able to do movies, and to succeed more than anyone else in any form of entertainment that he entered into, whether it was writing, producing, singing, acting, directing. It was innate to his personality."
He'd just partnered with billionaire Prince Alwaleed Bin Talal—whom he'd met through Charles Bobbit, James Brown's longtime manager—to form a company called Kingdom Entertainment. According to Cascio, Jackson said the Saudi mogul preferred to do business with "family men," hence his decision to wed Lisa Marie.
By the late 1990s, Jackson was leaving more and more of his business to the new advisors who seemed to be popping up with the haphazardness and frequency of dandelions on a poorly maintained lawn.
Justin Bieber and manager Scooter Braun explain their guiding philosophies: don't endorse products you don't like, and include a charitable component in every deal. When I ask them if there's any artist Bieber is directly trying to emulate, both in terms of music and business, they share a knowing glance.
Jackson had another reason for wanting to take his time with the album. He believed he could get out of his latest Sony contract in 2000 and simply sell the new material to the highest bidder.
Jackson had always admired the great draftsmen of the world. But even for Picasso, there would come a point when another brushstroke wouldn't improve a painting, and might even hurt it. In the current iteration of Michael Jackson, Inc., there were no longer any advisors who could tell Jackson when to stop trying to improve his musical canvases.
Invincible ended up costing Sony $30 million to $40 million. "Because if he said, 'No,' Michael would go to the next person who would say 'Yes.' "
All in all, the singer's overhead was approaching $20 million per year in the early 2000s.
Jackson would have been in immediate trouble if it weren't for his half of the Sony/ATV catalogue, which enabled him to continue to take out loans to support his lifestyle and provided some income as well. Coupled with continued sales of his own music, he was still pulling in low double-digit millions—and he remained quite cognizant of the value of his copyrights. "I learned the publishing game by Michael," says Jerkins. "He taught me . . . how to locate the right catalogues to buy."
"Michael Jackson is about as crazy as Colin Powell," photographer Harry Benson told Vanity Fair . "He knows everything he is doing. He holds his baby over the balcony and everybody goes crazy, but he's in every newspaper around the world."
"His plan was just unbelievable," Wiesner recalls. "He was saying, 'Dieter, we have to have all the rights. On the one side, I have this Beatles catalogue, I have this Mijac catalogue. On the other side, I will have this Marvel catalogue with forty-eight hundred different characters like Spider-Man, Incredible Hulk, all these things.' He knew exactly what he wanted to do."
He was thoughtful, kind, and incredibly well read—the singer frequented many of the same used book stores as Mesereau. Jackson also knew the cultural history of the United States all too well, and saw himself as a modern-day version of early twentieth-century boxing champ Jack Johnson: a black man who'd won a white man's game and was in danger of being taken down on false charges.
The singer's expenses totaled at least $20 million per year—including $5 million on security and maintenance for Neverland, $5 million on legal and professional fees, $7.5 million in personal expenses, and $2.5 million in miscellaneous costs. On top of that, he was paying $11 million a year in interest on his massive loans.
He'd recoil at the thought of going back to work, it just horrified him.
Jackson's concerns may have been exacerbated by deteriorating relationships with his Bahraini business partners, who insisted upon being involved in every aspect of his life. Hip-hop legend Nas remembers calling Jackson around this time; when the singer picked up, there seemed to be someone else on the line with him. "We just talked about having respect for each other's careers," Nas recalls. "I thought it was strange that there was an Arabic guy on the phone, 'cause anytime Mike needed to make reference to something he had going on, the guy would chime in. . . . I just thought, 'Wow, when you become that famous, when it becomes like that, it just seems scary, man. It made me concerned for him.' "
"The more money and the more power you have, the less likely you are to be smart," says Burkle. "Because fewer people are telling you when you're wrong. I think he would have benefitted from more people telling him he was wrong."
All in all, there was about $12 million more going out per year than there was coming in. Jackson hadn't toured since 1997, and his image and likeness earnings had dwindled to less than $100,000 per year. 6 He'd been able to live with the imbalance thanks to loans he'd taken out, largely against his Sony/ATV stake; by the end of 2007, the latter was thought to have a gross value of about $500 million.
Jackson wasn't shocked by the assessment. He knew his finances had gotten out of control, and though he had an excellent grasp of the value of his assets and brand, the complex web of loans in which he'd become ensnared was beyond his expertise. (Says Barrack: "MJ realizing the value in the Beatles' catalogue is MJ's brilliance. MJ understanding a very complicated financing and distribution structure is quite another thing.")
Meanwhile, Jackson continued to generate entrepreneurial ideas of his own. In a series of notes handwritten to himself, he outlined plans to release one movie per year for the next five years, perhaps with the help of American Idol creator Simon Fuller. He also wrote of launching soda and cookie lines, all with the goal of becoming the "first multi-billionaire-entertainer-actor-director," maintaining an all-encompassing focus on being the best.
Jackson thought he might start by convincing AEG to help him develop movies inspired by his time in the Gulf, namely the tales of Sinbad the Sailor and Ali Baba and the Forty Thieves. Why the focus on motion pictures? "If I don't concentrate [on] film," he wrote urgently, "no immortalization."
If This Is It was canceled or postponed because he couldn't get Jackson to rehearsals, that would leave Murray without a much-needed job to pay off the debts of $1 million he had racked up while running his now-defunct practice.
So he was eyeing two houses: a $55 million mansion in Bel Air and a $45 million estate in Las Vegas that had been owned by the Sultan of Brunei and his brother.
Not one for small exits, the King of Pop nearly took down the entire internet with him. TMZ was the first to report the news; when it began to experience outages, users shifted to celebrity blogger Perez Hilton's site, which also buckled under the unprecedented virtual weight. Soon the load had swamped Google, Twitter, and the website of the Los Angeles Times, while CNN's site reported a fivefold increase in traffic. Wikipedia went down—users made five hundred edits to Jackson's page in twenty-four hours—as did AOL Instant Messenger.
Jackson's memorial service was held on July 7, 2009, at the Staples Center in Los Angeles, broadcast to a televised audience of 31.1 million Americans—just shy of the number that tuned in to watch President Ronald Reagan's burial in 2004, according to Nielsen Media Research. 3 Some estimates put the worldwide viewership in the neighborhood of 1 billion.
"This was the education of a lifetime because I learned everything about performance from the greatest live performer ever. You can have the best technology in the world, the best stage and sound design and the sets, but unless you have a real understanding of how to deeply impact the audience, nothing else matters."
That's one of the many goals Jackson was unable to accomplish toward the end of his time on Earth but did, finally, from beyond the grave. He was also able to get out on the road, release new music, and start picking up endorsement deals again.