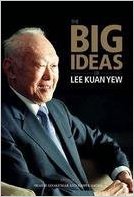 ISBN: 9814342793
Read: January 2015
Rating: 8/10
Amazon page for more details and reviews.
A valuable collection of essays written by people who worked closely with Singapore's first Prime Minister, shedding light on his views on a number of topics, including law and politics, society and economics, and governance and foreign affairs. I'm in awe with the fact that Singapore lacks corruption and has no natural resources, yet it managed to go from developing nation to developed in just one generation. Lee Kuan Yew and his team designed the Singapore of today, and I loved reading about the mindset, components, and challenges faced since independence from British rule in the 50s.
My Notes
Introduction – Kishore Mahbubani
Just as Mr Lee was both was the pragmatic and principles in his attitudes towards the issues of order and law, he was equally pragmatic and principal in his attitudes towards the issue of language in Singapore. For pragmatic reasons, he chose English as the working language of administration. This was a wise decision. It made Singapore internationally competitive. By contrast, Timor-Leste made an unwise decision when it chose Portuguese as its official language. This decision cut Timor-Leste off from its immediate hinterland and handicapped it economically.
Dr. Goh Keng Swee's famous pithy statement: "You do good, you will be rewarded. You do wrong, you will be punished."
Any young Singaporean who wants to understand what that alternative history might have been for Singapore need visit only one state: Penang. It may be run by an opposition party but its destiny will be determined in Kuala Lumpur. The independence of Singapore is as much a result of luck as it is of skill, indeed extraordinary geopolitical skill.
Personal Reminiscences – SR Nathan
When talking about him, one has to reckon with his intelligence and remarkable grasp of things. He grasped the nature of the world Singapore found itself in and the way things were moving – for or against Singapore's interest. For this he did not depend on what we officials purveyed to him. He read widely. He was never satisfied until he understood for himself the accuracy of facts presented to him. What he did not grasp he kept probing. In this way, he absorbed information on economic and political developments, sorted them out in his mind and made sense of them before he responded.
His analytical power of addressing developing situations was spot on. He was able to get to the nub of the issue and point out to us what was vital. He also had a great ability to communicate his ideas to small and large groups.
(Story about SR being junior officer and LKY helping him adjust his tie, saying "Nathan – you must remember you are no longer in the labour movement"). I had grown up without a father or an elder brother. Here was the prime minister himself coming down to my level to do what they would have done for me.
The "So" Question – Heng Swee Keat
His questions were fast and sharp. Every reply drew even more probing questions. At the end of it, he said: "Brush up your Mandarin and report in three months. We have an important project with China."
It was perhaps when I replied "I don't know" to one or two questions that I made an impression. With Mr Lee, it is alright if you do not know something. But do not pretend and lie if you do not know. Integrity is everything.
Mr Lee's worldview is comprehensive and consistent. Three strands stand out for me:
1. Singapore's place in the world. Mr Lee's lifelong preoccupation is how Singapore, a resource-poor city-state, can survive in a world where powers big and small compete for supremacy.
His view is that a small city-state can best survive in a benign world environment, where there is a balance of powers, where no single state dominates and where the rule of law prevails in international affairs. A small city-state has to stay open and connect with all nations and economic powerhouses. To prosper, Singapore has to be relevant to the world. We must be exceptional.
2. His views about human nature, culture and society. Some societies are more successful than others because of the way they are organised, and the values and cultures that underpin them. As human beings we have two sides to our nature – one that is selfish, and the other that is altruistic.
A society loses its vigour if it eschews excellence and competition; equally, a society loses its cohesion if it fails to take care of those who are left behind or disadvantaged. Mr. Lee believes that this tension between competition and cooperation, between yin and yang, is one that has to be constantly recalibrated. Those who are successful must contribute back to society and help others find success. We must share the fruits of our collective efforts.
3. His views about governance and leadership. Societies are subject to complex forces, and do not become successful automatically. As a lawyer, Mr Lee believes deeply in the rule of law and the importance of institutions in creating a good society. But institutions are only as good as the people who run them. Good governance needs leaders with the right values, a sense of service and ability.
Above all, leaders are good stewards. They should develop future leaders and when the time comes, they should relinquish their positions so that the next generation of leaders can take us to greater heights.
Mr Lee has a favourite question: "So?". His instinct is to cut through the clutter, drill to the core of the issue and identify the vital points. And he does this with an economy of effort.
Mr Lee is intellectually open…Indeed Mr Lee has strong views because these are rigorously derived, but he is also very open to robust exchange. He makes it a point to hear from those with expertise and experience. He is persuasive, but he can be persuaded.
Mr Lee's rich insights on issues come from a capacious and disciplined mind. He listens and reads widely, be he does so like a detective, looking for and linking vital clues while discarding the irrelevant…he has a mental map of the world whose contours he knows well. A senior US leader described this well: Mr Lee is like a one-man intelligence agency.
The most remarkable feature of the map in Mr Lee's head is the fact that the focal point is always Singapore. Invariably, the "So?" question ends with, "So, what does this mean for Singapore?" What are the implications? What should we be doing differently? Nothing is too big or too small.
Turning Insights into results:
I believe it is through a single-minded focus on achieving whatever he sets out to do.
(Example of Suzhou Industrial Park teething problems) I learnt a valuable lesson from this experience. If things go wrong do not sweep them aside. Confront the problems, get to the root of the difficulties and wrestle with these resolutely. Go for long-term success, and do not be deterred by criticisms.
Mr Lee is constantly looking out for how Singapore should change, and how he turns adversity into opportunity.
Lee Kuan Yew and the Rule of Law – Chan Sek Keong
Mr Lee's rules of law, from what he has said in his speeches and interviews, consists of the following propositions:
1. The state may only exercise power in accordance with the law, i.e. the procedures, principles, and constrains in the law.
2. Everyone is equal before the law, and equally subject to the law, and any citizen can find redress against any other, including the government, for any act which involves a breach of law.
3. The purpose of the rule of law is to produce order and justice in the relationships between man and man, and between man and the state. Hence, the rule of law:
a) requires that judges be independent so that they can decide disputes impartially and without interference from any party, including, but especially, the government.
b) is necessary to protect the integrity and sovereignty of the state and maintain law and order so as to create an orderly and safe environment where people can live in safety, peace and harmony, and to that end,
i. detention-with-trial laws are justified if used for those ends;
ii. penalties and punishes must also be appropriate and effective to achieve those ends;
ii. the law must be strictly enforced;
c) requires the state to enact laws that inter alia promote
i. social stability and economic growth;
ii. racial and religious harmony;
iii. and deter all acts and activities harmful to the people and the state, including corruption, trafficking in drugs and in women and children, etc.
4. The rules of law (having these characteristics) is an economic asset as it provides a stable and safe environment for foreign investments.
5. The rule of law is essential to the internal order as it will prevent aggression against small and vulnerable states and there will be peaceful co-existence and stability in the international order.
"You need good men to run it, to improve on it, to adjust and change as the international situation changes, and as the domestic needs become different" – LKY
Reasonable Men Adapt, Unreasonable Men Change the World – Peter Ho
LKY argued that "as the world changes, small countries have to swiftly adjust their policies and positions in a pragmatic and clinical manner. We have to live with the world as it is, not as we wish it should be. We must remain nimble to seize opportunities that come with changing circumstances, or to get out of harm's way."
That willingness to try things out spawned a generation of state entrepreneurs who created, almost out of nothing, national icons such as Singapore Airlines, DBS, ST Engineering, Changi Airport, SingTel and so on.
But there are not short cuts, and "cowboys" are not tolerated in government.
…it meant that we had to be as sharp as he. To present our views and win the case, we had to be thorough in our research and compelling in our arguments. It created, in my view, a culture of excellence in the civil service. Never take short cuts or the intellectually lazy argument, or short-change other points of view. For Mr Lee would sniff out these weaknesses.
One of the hallmarks of the Singapore government is its emphasis on long-range thinking.
He wrote that "our job was to plan the broad economic objectives and target periods within which to achieve them. We reviewed these plans regularly and adjusted them as new realities changed the outlook. Infrastructure and the training and education of workers to meet the needs of employers had to be planned years in advance." This approach reflected in the government's emphasis on thinking ahead systematically, planning strategically and then adjusting along the way as circumstances change.
The Making of the Singapore Public Service – Yong Ying-I
LKY: "If you want Singapore to succeed…you must have a system that enables the best man the most suitable to go into the job that needs them…You must have an open recruitment system, proper appraisal systems, not just go by word of mouth of some individuals."
LKY: ministers and government officers "have enormous powers to grant or deny permits that can make or break businesses… Whether it is policemen, immigration officers, customers officers or officers in charge of dispensing licences, it is dangerous to have them grossly underpaid."
..Paying civil servants salaries close to what their peers earned in the private sector "enabled them to live according to their station in society without extra sources of illicit income".
Building a culture of excellence goes beyond having talent. It requires public servants with a genuine passion and sense of mission to build a better Singapore.
LKR: "When you write notes, minutes or memory, do not write in code, so that only those privy to your thoughts can understand. Write so simply that any other officer who knows nothing of the subject can still understand you."
When he visits various parts of Singapore, he is known to call up senior public servants to ask about matters as varied as why this tree is doing poorly and why that area is so dirty and poorly maintained. He would send memos. A 1969 example:
"Zoo Negara says that it costs $210 a month to feed a rhino, $200 a tiger or a lion, and $160 a polar bear. I do not believe sick dogs being shot can form a substitute for a regular meat supply, which will have to be paid for. There are very few zoos in the world which are successful and I am doubtful of the wisdom of starting one in Singapore."
Mr Lee believes in "getting the economics rights". This includes living within one's means, getting value for money from our purchases; keeping subsidies limited; not protecting weak performers; frowning on cross-subsidies which fudge true costs.
Mr Lee is a model for these beliefs and tenets of value for money, thrift, and fragility: his office and home are furnished simply; he does not have a huge wardrobe of clothes and neither does his immediate family; he entertains foreign dignitaries comfortably, but not lavishly. The government does not have its own plane, yachts, houses and other frills of office for ministers and officials. Ministers and civil servants fly on normal commercial airlines. Singapore Airlines has been instructed never to hold a plane for any minister who is late; he will just have to miss the flight. SIA also does not give upgrades to civil servants.
Bilingualism: A Never-ending Journey – Seng Han Thong
LKY: "We could not make English the first language in all schools at that time [1950s] – it would have caused a riot. We moved carefully, step by step, to enable parents to realise how English would lift their children's future prospects. Enlightened self-interest would get people to accept our bilingual policy."
LKY: Notes Towards Defining His Soul-Craft – Janadas Devan
They made the right choices because they, and the people they led, were animated by a set of values that made possible correct political, economic, and social choices. Leadership – for there was nothing automatic about translating inherited values into viable state institutions – consisted of insisting on the primacy of those values and refusing to compromise on them.
Small State Survival – Chan Heng Chee
Right from the beginning, Mr Lee has been prepared to go against the dominant view and to speak quite candidly on what he considered essential and good for the region's and Singapore's interests, even though what he has to say might be uncomfortable truths.
LKY: "I am not interested in being politically correct. I'm interested in being correct."
In the First Parliament, then PM Lee could not emphasise enough that his government wanted to establish Singapore as a multiracial, multilingual, multicultural society and nation, where races, languages and religions would be treated equally and no community would be discriminated against.
In October 1966, he advocated that "A foreign policy for Singapore must be one as to encourage first, the major powers in this world to find it, if not in their interests to help us, at least in their interests not to have us go worse". Further "we must always offer the rest of the world a continuing interest in the type of society we project". And even more importantly, because power decides what happens, it behooves us to "always have overwhelming power on our side". We should seek the maximum number of friends with the maximum capacity to uphold what our friends and ourselves have decided to uphold.
"It must be our constant endeavour to ensure first, the political climate in which the force which can be lent to us can be exercised". In other words, we should always help create that climate of opinion that is supportive of the presence of external powers in our region.
Small countries have little power to alter the region; a small country must seek the maximum number of friends, while maintaining its freedom as a sovereign and independent nation. Friendship in international relations is not a function of goodwill or personal affection. He said: "We must make ourselves relevant so that other countries have an interest in our continued survival and prosperity as a sovereign and independent nation."
Apart from our geostrategic location, we have projected ourselves as a hub, a global city, a pacesetter, an innovate, and ultimate, as I have been often told in Washington, "the country that has the solutions".
We have relied, as Mr Lee suggested, on becoming that useful country, the country in the region that works, that shining red dot, as a strategy of survival. We make ourselves relevant to others so that it is in their interest to have Singapore around. So the domestic and the international are entwined.
Playing Chess – Bilahari Kausikan
His analyses are characterised by the hardheaded precision with which he zeroes in on the core of any situation, undistracted by the peripheral. He expresses his ideas directly without cant of any kind.
Fluffy thought and weaselly expression are more usual in diplomacy and in the analysis of international relations.
The disciplined clarity of his thought and expression is one of the primary sources of influence Mr lee wields, disproportionate for the leader of a small country like Singapore. His views are valued because they are unvarnished and give a fresh and unique perspective. He says things that leaders of much larger and more powerful countries may well think and may want to say, but for one reason or another cannot themselves prudently say. And so he made Singapore relevant.
There will obviously never be another LKY. But we are still and can remain internationally relevant so long as Singapore is successful and we do not lose the habits of mind – supple, pragmatic, disciplined, and unsentimental long-term thinking focused on the national interest – and the core principles and clarity of expression that Mr Lee instilled in what is today a far more institutionalised foreign policy system.
But we should certainly not take for granted that we can in fact retain this edged. Foreign policy will sooner or later be the subject of domestic debates.
Afterword – Shashi Jayakumar and Rahul Sagar
If there is lesson that men and women wishing to be effective leaders can draw from these essays, it is to cultivate a mindset that favours fact over blind faith; that pursues immutable values but never without regard for the consequences; that reflects deeply but is not paralysed by analysis. We are confident that when future generations fully grasp the sum of Mr Lee's achievements and ideas, as reflected in these essays, they will come to understand his dictum that "idealism is the stuff that youthful dreams are made of; experience is the most rigorous tutor of the art of the possible".