The ancient city of Hampi in Karnataka, South India, is home to hundreds of ruins of palaces, temples, and UNESCO World Heritage Sites and belonged to the mighty Vijayanagara Empire (13th to 15th centuries). Geographically it is one of the most interesting places I've explored, with giant boulders scattered throughout the city that make it look like a giant had a temper tantrum and threw fistfuls of boulders all over the land. The empire that ruled almost all of South India was cosmopolitan, technologically advanced, and it's key city, Hampi, was one of the richest cities in the world. When doing a bit of pre-travel research, this stood out on 
Wikipedia
:
In around 1500 AD Hampi had about 500,000 inhabitants (supporting 0.1% of the global population during 1440-1540), making it the second largest city in the world after Peking-Beijing and almost thrice the size of Paris.
When a friend invited me to join her on a weekend trip last month when I was based in Pune, I had to find out what a mega-city like this looked like, and what it would have been like to be one of its citizens.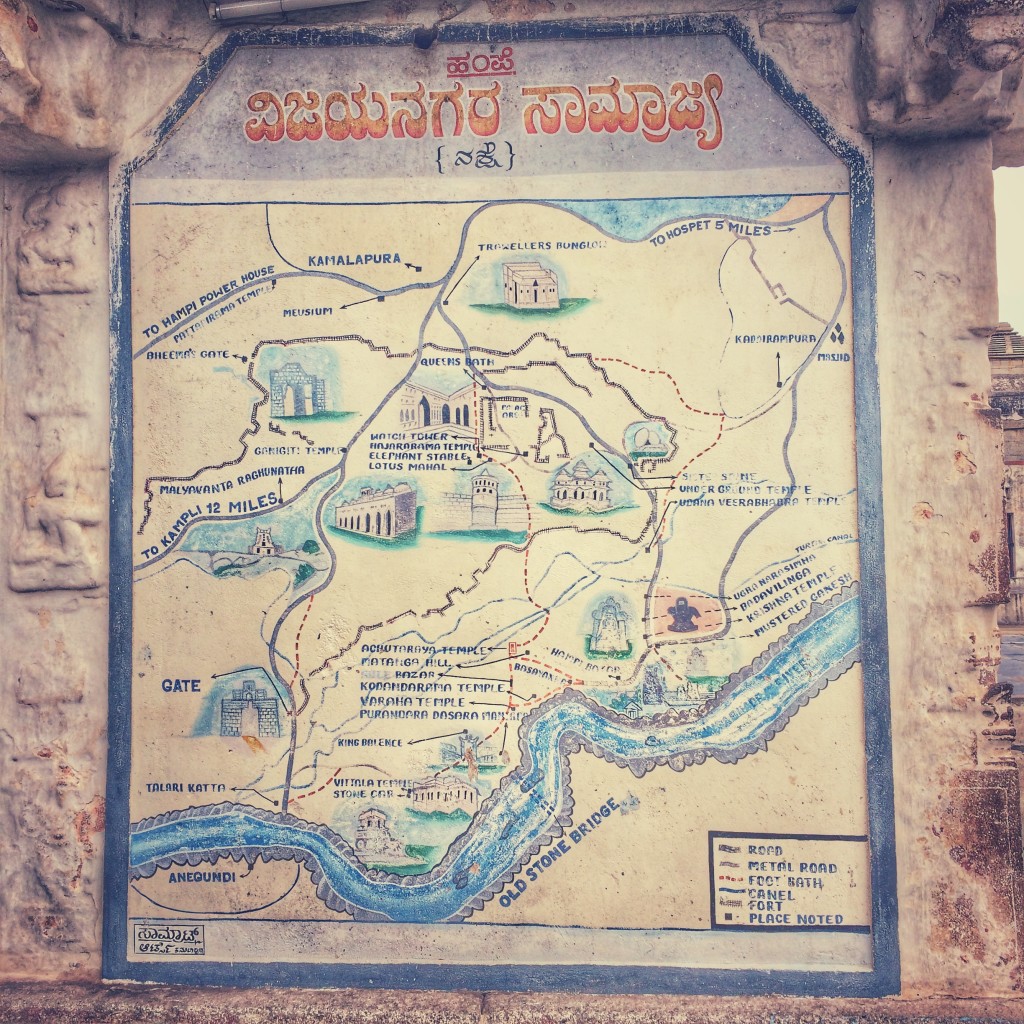 Getting there: the 11-hour sleeper bus from Pune to Hospet
We paid about 1100 Indian rupees each way on a super comfy sleeper bus. Our bus left two hours late from Pune at around 12.30 a.m. I was blown away by how comfortable and clean the bunks were, and it wasn't until I woke up around 4 a.m. bursting to pee and asked the driver to stop from a quick break that I saw how perilously he was driving. At one point as we overtook a couple of trunks on a one-lane road, we were driving head-on towards a massive truck about 250 metres away driving on the other side of the road. After that I slept very, very lightly.
The wrong side of the river turned out just right.
We got off at Hospet at 11 a.m. and took a INR 200 rickshaw to Hampi, and then got into a small boat that took us to the other side of the river where to our accommodation, with fewer tourists and fewer ruins. Since it was already 1pm we decided to hang out on this side of the river, renting a scooter to enjoy the beautiful scenery, near perfect weather,  and stop at places that caught our eye. Highlights included:
– Hanuman Temple – supposedly the birthplace of the monkey God Hanuman. Crazy ass climb up but worth the views of all those boulders and Hampi.
– Bus and home-sized boulders – trying to find the royal stables of one of the enclosures, my friend and I got a bit lost on our scooter, and subsequently distracted by a bunch of massive boulders which we decided to climb up. This was so much fun, as we were off the beaten path, discovered an crumbling, abandoned Hindu temple complete with dead giant centipedes, and enjoyed amazing views with zero tourists anywhere in sight.
– Hampi Reservoir – We ended the afternoon trying to watch sunset at here but instead watched an old boat driver operate his bucket of a boat ferry passengers from one corner of the reservoir to another corner about 10 meters away, painfully slowly and inefficiently. At around 6.20pm we got pelted by intense raindrops during a sudden 10 minute monsoon shower.
My inner Indiana Jones/Lara Croft had a wonderful time.
Food: it all tastes the same?
What my friend and I discovered that night is that all the restaurants on our side of the river serve the same food from near-identical menus. The restaurant at our hotel, Gopi Guest House, had run out of the exact same items as our dinner venue, Laughing Buddha, as had the restaurant next door where we had our final lunch in Hampi before returning to Pune. In any case, the food we did order – typically Indian rice and curry dishes, pizzas, and pasta – were quite tasty and left our tummies in good shape 🙂
The other side of the river: ruins, temples, and bike tours
The next morning we took a boat to cross to the side of the river where most of the action takes place, and paid INR 400 each to rent a couple of bikes and join a few tourists on a bike tour of the major sites of Hampi. The whole trip too 4 hours and it was great to get insights on the history of the city and empire through the tour guide as well as through what we saw in front of us. My favourites included:
Royal Elephant stables, which when in operation centuries ago housed 11 royal elephants:

Lotus Mahal, the highlight of the 'Zanana Enclosure' where the queens of the empire lived. I loved the Indo-Islamic architecture of this building:
Virupaksha Temple, the biggest temple in Hampi and the most striking attraction as you enter the city. Largely undisturbed and in use for more than 600 years:
A reminder of the ever-changing nature of life
Hampi struck a chord with me. It reminded me that everything changes. Nothing, no matter, how great, how "timeless", how invincible, lasts forever. This majestic kingdom with insanely luxurious palaces, dwellings, and temples (palaces had roofs made of sandalwood which took THREE MONTHS to burn and destroy when the Deccan empire took over the land in the 15th century) was reduced to dust and a stone over 600 years. I imagine Hampi being a Singapore, a Dubai, maybe even a New York of its time. A melting pot of culture, wisdom, and luxury. I wonder what the mega-cities of today will be like in 600 years. And where the mega-cities of tomorrow will be located, what they're people will be like, and what their leadership will give its people.
If you're thinking of visiting South India, make sure you stop by at Hampi! Accommodation is extremely affordable, transport readily available, and you'll learn so much about South India and its history walking through the ruins. You'll get to hang out with a bunch of friendly locals and fellow travellers, and create an adventure no matter which side of the river you explore!
Did this post about Hampi inspire you to visit? Have you already been? I'd love to hear your thoughts about your travels and adventures to Hampi in comments below!
Also, follow me on Instagram (@udhara) for photos of my travels, shot almost entirely on iPhone 🙂
Travel Tips
Transport to Hampi: We took the 11-hour sleeper bus to Hospet, which is 30 minutes away from Hampi. Tickets with the best bus service, 'VRL' buses, can be booked ONLY with an Indian credit card online using redbus.in or makemytrip.com. One of our Indian friends in Pune was kind enough to use his card to book our tickets.
Accomodation: Gopi Guest House. Very basic accomodation with simple toilet. Friendly staff and affordable room rates (INR 800) for a double room.
Food: Laughing Buddha. Cheap, tasty, and clean food.
Scooters: rent a bike with 2 liters of petrol for INR 280. This should last a whole day. You can only rent scooters on the non-touristy side of the river.
Bicycles: on the touristy side of the river, you should be able to rent bikes for INR100 or less if you'd a good negotiator.
Additional Resources