I've been using an iPad Mini since 2016, and when Apple finally upgraded its innards earlier in 2019, I bought a new one as soon as I could afford to. I already have a MacBook Pro, an iPad Pro, and an iPhone 7 Plus. Why on earth would I need a device to fit between my relatively large iPhone and iPad Pro? Besides being a spoiled, first-world millennial, I have my reasons.
It's my primary reading device as I shift from physical books to ebooks (exceptions include fiction printed on gorgeous paper and rare, out-of-print books). It's my productivity device when I'm flying, on a packed train, or in a crowded cafe. And it's been a crucial instrument for my creative efforts, whether it be cooking a meal or writing a blog post or putting together soundtracks for my podcast.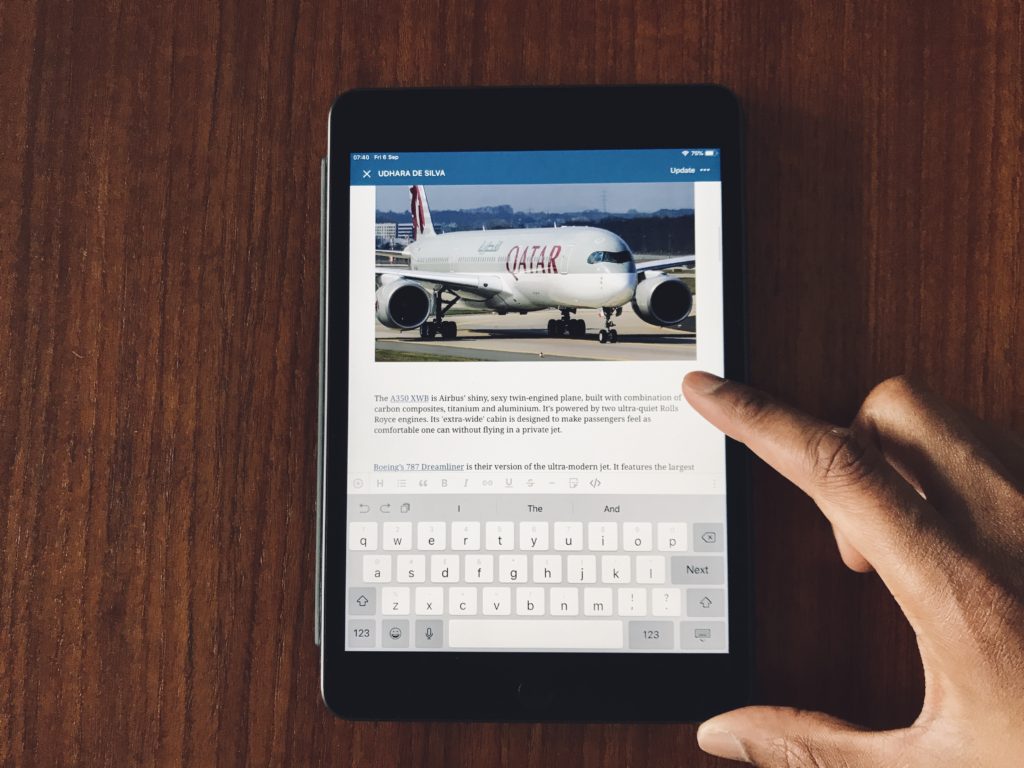 Of course, all of the above could be done with a regular sized iPad (or with numerous tech-free alternatives). My favorite ideas almost always come to me while flying, and often, I'll find myself on a packed economy class flight (where I started writing my review of the Airbus A350 vs. the Boeing 787 Dreamliner). The kind strangers in front of me often pitch their seats all the way back, ensuring that my in-flight entertainment is as close to my face as possible. Without a smaller device, the ideas that would otherwise be explored on fully extended tray tables get relegated to my phone, in the form of a quick note for later exploration, and I miss out on hours of undisturbed brainstorming. Having collected recipes for years from all over the world on my Notes app, it would be a little careless perching a $1000+ iPad Pro or Mac on my kitchen counter as I hand-roll pasta or stir in turmeric into a bubbling potion sitting on the stove. The multi-purpose solution I go to, time and time again, is my iPad Mini.
Same outsides, brilliantly updated insides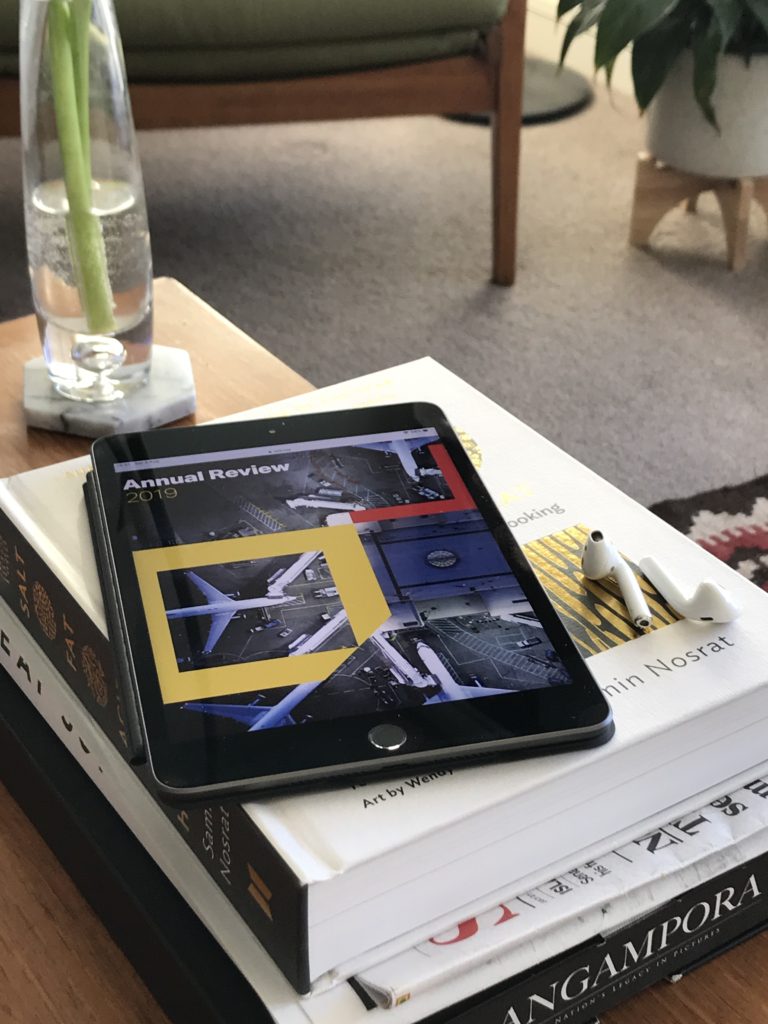 To those wondering why Apple hasn't updated the form factor of iPad Mini, it might be because it's lightyears ahead of the competition in terms of small tablets. Perhaps there are only so many folks in the industrial design team designing the next generation of so many hero products. Or maybe it's because there are tech constraints and supply chain constraints. Either way, it doesn't matter. iPad Mini is a gorgeous and invaluable product that was updated a few months ago with completely new brains and muscle, including:
Upgraded power, using the same A12 Bionic Chip that the iPhone XS uses, making the mixing of a tune in GarageBand, editing content in iMovie, or researching and writing and watching something at the same time absolute cake.
Updated display tech with True Tone functionality, adjusting white balance automatically based on surrounding lighting in the area. This makes it easy on the eyes to read, stream or work.
Apple Pencil compatibility. I'd love to say I draw and paint on my iPad, but besides the occasional doodle here and there, I've yet to become an iPad artist. It's mostly for notes and brainstorming that I use my Apple Pencil.
On a more superficial note, I do love the new space grey colour, which is what I replaced old, silver one with.
When an iPad Mini fits over an iPad Pro or Mac
iPad Mini is a device for readers, streamers, travellers, and creatives on the go. Wth the easy access I have to my device, I often find myself putting in a little extra effort into my work or reading a few more pages than if I just had my phone on hand.
I use my iPad Mini in a few distinct ways from its larger sibling, iPad Pro, and much more powerful cousin, MacBook Pro. I can do this on my iPad Mini:
And this:
This:
And while I don't often need to, this:
Usage comparison: Mini/Pro/Mac
Words
iPad Mini: Reading books, notes, writing
iPad Pro: Reading larger documents like annual reports, notes at work, writing
Mac: Very little reading, more content writing
Images
Mini: Viewing, Organizing, Editing
iPad Pro: Work attachments (receipts, presentations, emails)
Mac: Editing
Work
iPad mini: email, reading documents, digital paperwork, meetings
iPad Pro: email, docs, creating docs/presentations/limited spreadsheets, meetings, managing and reconciling business accounts in Xero.
Mac: email, docs, detailed presentations and papers, spreadsheet creating and data manipulation, creating and editing content, managing meetings that involve screen sharing and presenting remotely.
Video
iPad Mini: streaming, editing personal video content on the go
iPad Pro: Streaming
Mac: Streaming, editing commercial video content
Music
iPad Mini: Creating concepts on the go
iPad Pro: Creating concepts and polishing
Mac: Mixing, editing, and final publishing of audio content
It also goes without saying that the vast majority of this blog post was written and edited on my iPad Mini. Of course, a couple of ideas sparked while waiting in line for coffee and recorded on my iPhone, polished during work lunch breaks on my iPad Pro.
How I multitask on iPad Mini
It's obviously a little harder to use split screen on such a small screen, but when I do, it's usually for organising documents in email, researching content for an article, or communicating on iMessage or Facebook messenger while in the middle of reading or writing.
In terms of offline multitasking, I find my iPad an invaluable kitchen companion too, particularly when visiting a recipe for the first time.
iCloud data is a critical piece of the ecosystem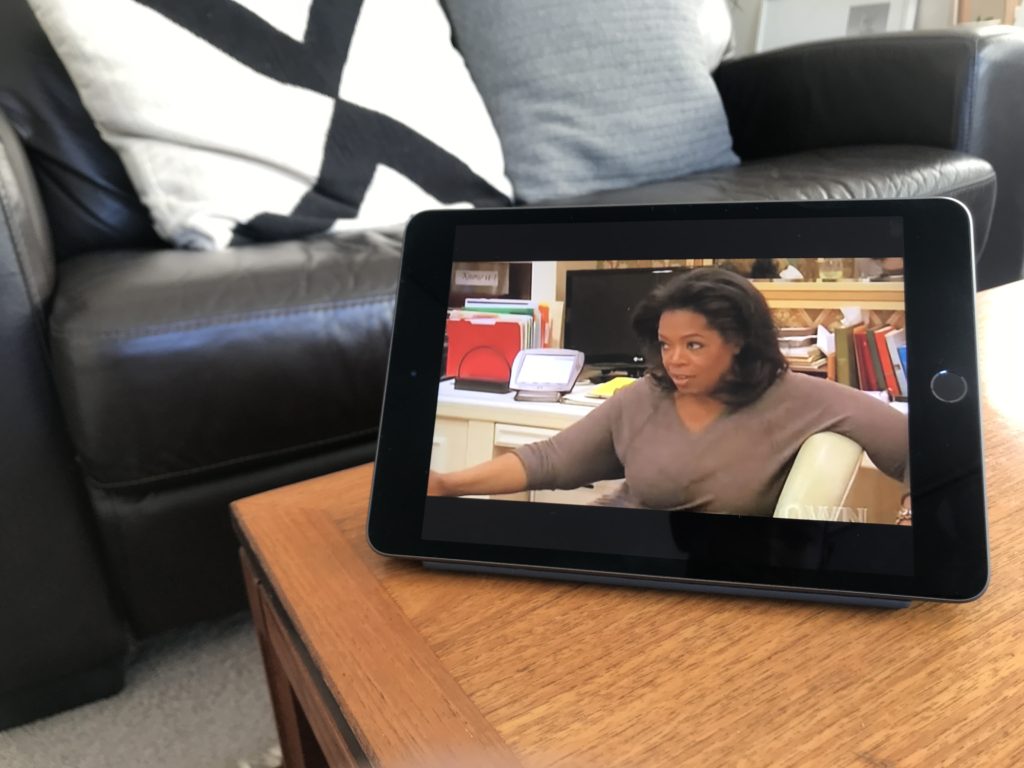 iCloud has been the best place for all my files, photos, and episodes of Season 25: Oprah Behind-The-Scenes. I decided to upgrade to an iCloud data plan a few years ago, following a robbery that took place in Bali. I lost my Mac with critical work files I'd just produced that week. Since then, I've synced all my files to the cloud. I no longer have to worry about hard drive space. The moment I take a photo, it's uploaded to the cloud, removed from my phone, and instantly accessible on any of my devices. The files on my Mac are accessible on my iPads and iPhone, and I haven't used a USB stick to transfer content in several months. As a result, I've been able to do so much more on my iPad Mini on an on-demand basis than I might have before my iCloud days.
When to whip out an iPad Mini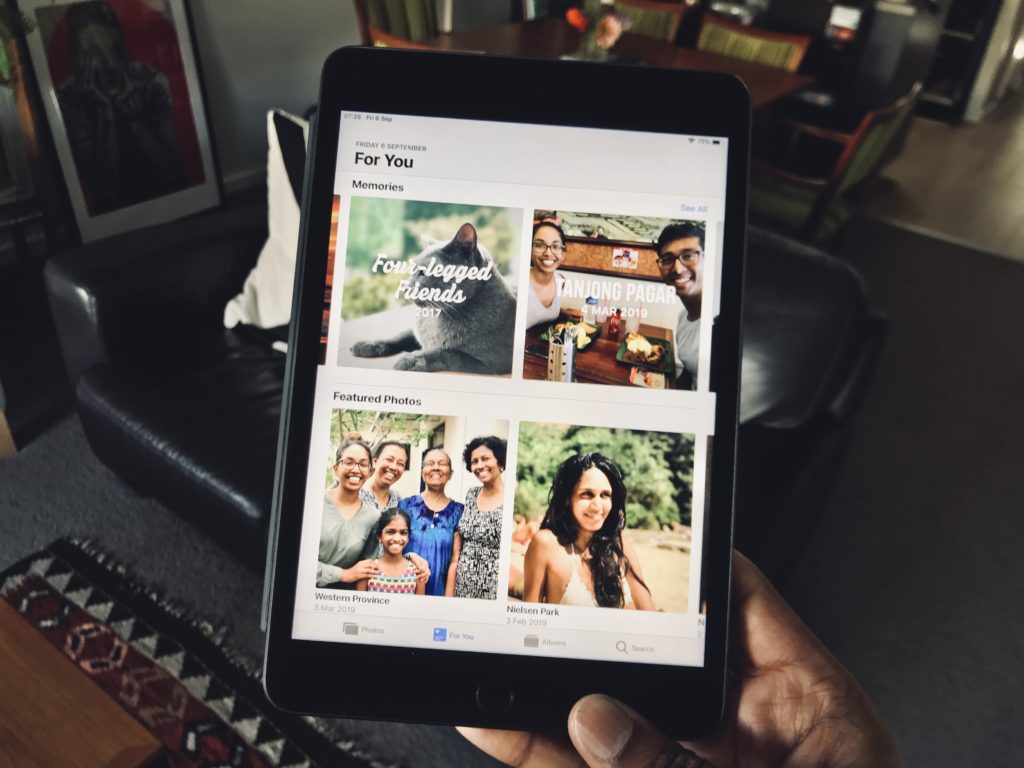 If you have a laptop but can't lug it around everywhere, if you have creative thoughts you'd like to explore on the go, if you're a digital reader who likes taking notes, or if you're looking for a decent content editor without having to shell out significant bucks on an iPad Pro, or don't want something that large, I'd recommend an iPad mini. And it certainly doesn't hurt having a killer Netflix playlist downloaded and ready to go for your next train, bus or flight.
Mindful tech usage
This little iPad Mini review isn't intended to fuel tech addiction or harp on about the comforts of the modern world. It's about triggering this question: "How would you use tech, rather than tech using you?" It's about mindful tech usage: being able to take note when inspiration strikes when you want, being able to get in touch with people in the most hi-fidelity way possible, and technology pushing you to become more of a problem solver, rather than dumbing you down. It's about helping you 10x multiple aspects of your life.